We have the marine grade carpet you need to cover your bunk wood!
Rather have MYCO do it? We can refurbish your trailer bunks! Send us photos showing the existing condition of your bunks and bunk brackets along with your MYCO Trailer V.I.N. to parts@mycotrailers.com or text to 385-275-6926.
We do not sell pre-made trailer bunks. Why? Because we need the trailer on-site to make the bunks fit the existing bunk brackets.
​If you are re-doing bunks on a trailer, use the existing bunk wood as a template to make the replacement.
Heavy Marine Grade – Black Carpet
Part Number: 3000200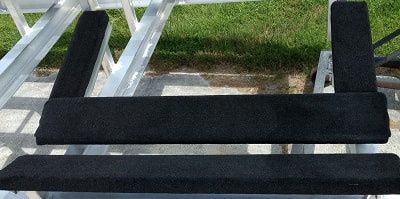 Military & Severe Duty – Gray Carpet
Part Number: 3000000